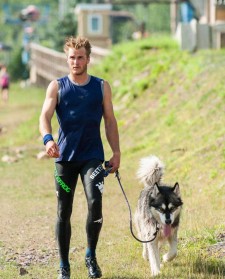 What does it take to be the toughest "Mudder" in the world? Three-time champion Ryan Atkins shares his regimen for preparing for the most grueling obstacle races and the motivations that keep him at the top of his game.
Highlands Ranch, CO, September 21, 2016 (Newswire.com) - Obstacle Course Racing (OCR) is still a relatively new sport. Tough Mudder and Spartan both held its first races in 2010. Newcomer, BattleFrogs hit the scene in 2014, the same year of the inaugural OCR World Championships. Despite the infancy of the sport, the best OCR racers are professional athletes. Ryan Atkins, recently dubbed the "King of OCR" by Impact Magazine, races for the BattleFrogs ProTeam and reigns supreme in this sport. To train for OCR races, Atkins focuses on strength and endurance, using high intensity interval training (HIIT) 2 to 3 times a week.
Atkins has only been running OCR races since 2013, but has completed upwards of 60 races. He is currently the only athlete to have completed 100 miles on "The World's Toughest Mudder Course," (WTM) and has defended his title for three consecutive years. Atkins will be participating in this year's WTM in October as part of a team.
"I don't think anyone thinks a team can complete 100 miles. I love proving people wrong and challenging myself," Atkins said laughing.  "Also, I've got a superstar teammate, Jon Albon. It will be fun to spend 24 hours with him."
Many of the most successful OCR racers thrive in this arena not because they are the fastest runners, but because they have the strength, stamina, mental fitness and physical agility to get through the obstacles. In short, the best OCR racers have a much more diverse skill set than just running fast or running long distances. Atkins, who has been an athlete all his life, excels in all areas of OCR racing.
Besides being the World's Toughest Mudder, Atkins has won dozens of other Spartan, BattleFrog and "ultra" running races of 50 miles or more. He maintained an 8:35 per mile pace for over seven hours traveling a distance of 50 miles this spring when he took home first overall in The North Face Endurance Challenge, cutting his overall time by over 30 minutes from 2015.
Atkins says that motivation isn't a problem for him. He finds it easily with his new bride and fellow BattleFrog ProTeam racer, Lindsay Webster, and his dog.  "I often have to tell myself to train less."
Atkins' training varies depending on the time of year and what he is training for. "I typically do about 70 percent running, 15 percent cycling and 15 percent strength training for approximately 15-17 hours a week."
His favorite must-do training exercise when preparing for an obstacle race is hill intervals. "You depend a lot on your legs and lungs to power you through these courses and doing hill work seems like the best way to prepare."
Another exercise that Atkins finds beneficial, but doesn't particularly enjoy, is the bucket carry. "I carry 80-plus pounds of gravel in a bucket," said Atkins. "It's really painful to do, but beneficial."
Atkins, who is partial to the longer distance obstacle races, has found that adding interval workouts to his routine is also helpful.
"I do intervals often, but I don't usually do intervals that are shorter than four minutes, unless I'm training for a really short race. For anyone getting into OCR for the first time, my advice is to practice running, but don't take your training too seriously. The important thing is to have fun. After your first race, you see where you need to make improvements and adjust your training accordingly."
"There's a race for everyone in OCR.  All the races have challenges designed to appeal to first timers, so it's just a matter of picking one and doing it," said Atkins.
Additionally, there are races of varying distances to challenge a "sprinter" or the "distance" athlete. In either case, strength and endurance training is a must to get through the obstacles.
Source: King of OCR
Share: