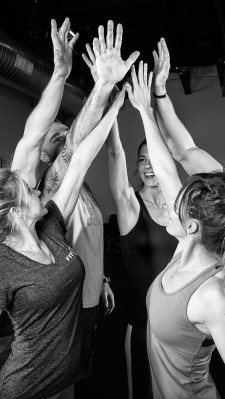 What could be more efficient than a full-body, 36-minute workout? A mobile app to help individuals research, book and find directions to the closest studio with that workout. FIT36, the high intensity interval training workout in 36 minutes, has just released its first mobile fitness app.
Highlands Ranch, Colo., September 9, 2016 (Newswire.com) - FIT36® announced today the launch of its first mobile fitness app. The FIT36 App conveniently houses all the information high-intensity interval-training (HIIT) enthusiasts need to plan and schedule their HIIT sessions, research fitness trainers and locate the nearest studio.
"We are continuously looking for new ways to help our members keep fitness a top priority, whether inside the studio or through technology," says Cheryl Cassaly, senior director of marketing for the FIT36 brand.  "Heart rate monitoring helps optimize members' performance. The free FIT36 App will help members make the most of their fitness schedules by helping them book a class at any studio, any time of the day, all from their mobile device."
The FIT36 App makes scheduling a workout even more efficient than before. Members are able to view a studio's schedule, sign-up for classes and take advantage of studio specials.
FIT36 is a 36-minute total body workout. Small groups are led by certified personal trainers who provide an efficient workout tailor-made for busy executives, moms and weekend warrior types looking to take their physical abilities to new heights. It is modern training for the modern athlete, incorporating everything from kettle bells, bands and monkey bars to TRX® straps, free weights, and rowers.
FIT36 uses wearable technology and takes members through 12, 60-second circuits, twice, allowing for 30 seconds of rest between each station. Heart rate monitors are used to monitor heart rates and the total amount of calories burned during a workout session. The circuits are changed bi-weekly to allow members to master each circuit safely, while challenging their muscles to adapt over the course of the two-week circuit. The movements are self-limiting and resistance-focused to push each member to the max in a safe and efficient way.
The FIT36 mobile app is free to download and is available on most mobile devices. For iOS® users, iOS 8.0 or later is required and is compatible with iPhone®, iPad® and iPod touch®.
ABOUT FIT36® and WELLBIZ BRANDS, INC.
WellBiz Brands, Inc. is headquartered in Highlands Ranch, Colo. and is one of the largest health and wellness companies in the United States.  The company manages three separate franchise entities: Fit36, LLC, which franchises high intensity interval training studios, with workouts done as a small group; Elements Therapeutic Massage, LLC, which franchises massage studios, providing custom therapeutic massage to meet clients' individual needs, and Fitness Together Franchise, LLC, which franchises one-on-one and semi-private group personal training studios.   For more information about FIT36®, visit FIT36fitness.com. For more information about Elements Massage™ or The Elements Promise™, visit ElementsMassage.com. For more information about Fitness Together®, visit FitnessTogether.com.
Fit 36, LLC began franchising in 2014.  Each FIT36® studio is independently owned and operated. Individual franchisees own and operate four studios in Colorado, two studios in Virginia and one studio in New Jersey. Fitness Together Franchise, LLC began franchising in 1996 and has approximately 156 Fitness Together® studios in the U.S. Elements Therapeutic Massage, LLC began franchising in 2006 and has 230 Elements Massage™ studios nationwide.
Apple, the Apple logo, iPhone, iPad, and iPod touch are trademarks of Apple Inc., registered in the U.S. and other countries. App Store is a service mark of Apple Inc.
Google Play, the Google Play logo, and Android are trademarks of Google Inc.
TRX® is the property of Fitness Anywhere LLCIOS® is a trademark or registered trademark of Cisco in the U.S. and other countries and is used under license.
Source: FIT36
Share: